DIRTY COIL?
One of the most important components of your air conditioner is its coil. Your coil is the component that extracts all the heat from inside your house. Your performance of your air conditioner can be greatly affected once it gets dirty and has build up. This calls for a cleaning of your coil.
THE CONDENSER COIL IS WHAT PROPERLY COOLS YOUR HOME!
Air moves through your inside coil located in Air Handler  where heat is then absorbed into the refrigerant in the coil and circulated through tubes to your outside condenser coil.
The fan in the condenser unit helps to disperse the hot air from your house to the outside air … blowing it across the condenser coil. Your A/C actually removes the heat and disperses it.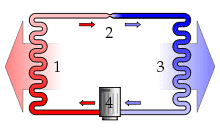 Common Issues Caused by a Dirty Air Conditioning Condenser Coil
Dirty condenser coils can cause a number of problems.
•       The energy-efficiency of the unit is going to drop significantly.
•       Your air conditioner won't be able to cool your home like it once did. The amount of energy the unit consumes is going to increase significantly, while the effectiveness of the cooling is going to decline far quicker than you might realize.
•       Your air conditioning unit isn't going to last as long as it normally would when you have a dirty coil. Manufacturers are under the assumption that you are going to clean your coil and maintain the unit properly when they predict how many years the unit is going to last.
•       Your cooling efficiency is going to drop by more than 30 percent. Once that happens, your unit is only going to be running at 60-70 percent effectiveness. It doesn't take much dirt to reduce the effectiveness of the unit.
ARTICLE COURTESY OF http://www.cranburycomfort.com/4-problems-caused-dirty-condenser-coil/